The following game pages have been updated:
» Baten Kaitos II
» Chibi Robo
» Battalion Wars
Alas, one page has also been removed, it's The Movies, which has been officially canned for all consoles by Activision due to poor performance of the PC version.
Baten Kaitos II came out 5 days ago in Japan, and here is what Japanese gamers exactly bought. In the meanwhile, all you can do is drool and train your patience; expected US release: June 2006.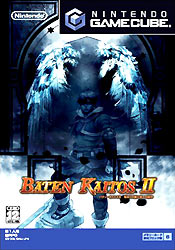 Click to enlarge
Added comments for Harvest Moon: Poem of Happiness and Another Wonderful Life, Super Smash Bros. Melee, Zelda Twilight Princess, Chibi Robo, Resident Evil 4, Baten Kaitos II, Sonic Heroes, Tales of Symphonia, Naruto and Naruto 2. The two best comments posted this time are for Gotcha Force by Bob Greenlandman and Starfox Assault by shadow2k. You win nothing, but congratulations anyway !
You have been active sending us many comments for a lot of different GameCube games, proving to all skepticals that Nintendo's home console is not dead yet and people are still playing it. The update includes comments for: Megaman X Command Mission, WWE Wrestlemania X9, The Legend of Zelda: Twilight Princess, Viewtiful Joe 2, Starfox Assault, Resident Evil, Harvest Moon: A Wondeful Life for Girls, Chibi Robo, Captain Tsubasa, Animal Crossing, Starfox Adventures, Baten Kaitos II, Mario Kart Double Dash, Harvest Moon Poem of Happiness, and more !
You're not dreaming, Samurai Nintendo's has been updated with a new game file ! My, my, this had not happened for a long time. We owe this renewal to Viewtiful Joe's latest action game, Red Hot Rumble, available since last year in North America and to be released at the end of this month in Europe. Unlike the original Viewtiful Joe game, it hasn't received much praise as it seems the franchise is losing a momentum that it never really manage to gain among gamers.
Its future on next generation concoles seems at stake and it's hard to find a reason why Capcom would like to continue spending time and efforts on a game series which is underperforming in terms of sales. If our predictions come true, this might well be one of the last Viewtiful Joe game you'll see in a long while.
» Overview of Viewtiful Joe Red Hot Rumble
2 weeks of Japanese sales added. We also wanted to update the release schedule but problem is... there's no release !
» See the Japanese ranking