Nintendo US totally revamped their site today. The makeover is radical and stylish. Is it really better than the old one ? we're not sure, but it is surely different at least. Go and check by yourself to get an opinion.
» Nintendo US website's icy new look
Here's a strange title. Presented at last E3, it's been one of the less exciting game that Nintendo had on the show. Everybody was wondering where Nintendo would be heading with titles like Pacman VS, Four Swords GC and Tetra's Trackers, some poor looking games insisting awkwardly on the irritating Game Boy Advance connection. Yet, a little while ago, it was announced that Pac-Man VS game would finally be released for free with Namco's R: Racing Evolution and Pac-Man World 2. Has Pacman VS always been intended to release as a bonus disk ? Or did the poor welcome at the E3 show encouraged this decision ? And will there be any other ways to get the games ? Many questions and no answer so far to explain this confusing release which is not even totally confirmed yet. We gathered the little we know about this mysterious game in this preview with 6 screenshots.
» Preview of Pac-Man VS
UPDATED:
Interesting coincidence... just today Nintendo US officially confirmed that Pac-man vs. will be bundled for free with three Namco's games. Whether you buy Pac-man World 2 for 19$ or R: Racing Evolution or I Ninja, each for 49$, you'll get your free copy of Pac-Man vs. ! A really present from Nintendo Europe which certain soothe some bitter E3's impressions. The release dates have also been confirmed, check the preview for the details. Hopefully, Nintendo and Namco plan the same promotion for Europe and Australia.
Once again, it's not a recent review that we propose today, yet, it might interest you, especially if you were tempted to buy it... just don't !!
» Review of X-Men: Next Dimension
For the lowdown, check the ranking in our Japan Weekly section which has just been updated. Yeah, sales of Mario Kart: Double Dash!! are not so good anymore... we have a few theories about that.
Here's the GameCube with the Gundam black and red design as we reported in last week news. Stylish, isn't it ?
(Other pictures now accessible in the system section)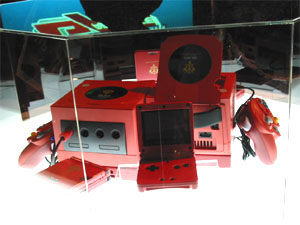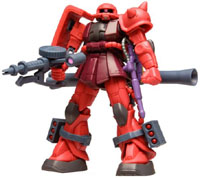 The most famous mecha franchise and one of the most popular game series in Japan is coming on GameCube. Bandai is bringing Gundam robots in a brand new game entitled "Mobile Suit Gundam: Senshitachi no Kiseki". It's an important move for Nintendo as Gundam always been a strong selling title. Surely Nintendo buying some of Bandai's shares helped a bit on that. The title is actually so important that a special GameCube edition will be released just for it ! Isn't it the first time Nintendo does this for a third party ? The new edition has dark red color and black shapes and is packed with Gundam: Senshitachi no Kiseki in a stylish box. We'll have some pictures soon.
Mario Kart: Double Dash!! grabbed the top spot in this week sales from Japan, where the game sold more than 175.000 units. It also helped the GameCube to increase its sales by 60% moving from 13.754 to 22.000 units. A good thing which might continue during all the Christmas season. Check more about all this in the ranking of our Japan Weekly section.
More than a new Pokemon Stadium, Pokemon Colosseum puts you back in the arena but also takes for a whole new adventure in RPG style, a first for a Pokemon title on a home system ! The game looks quite promising and hopefully will live up to it. Here's a preview with 23 screenshots.
» Preview of Pokemon Colosseum
That sucks !! this week we don't have the numbers... gomen !! sorry !! Fortunately, there's nothing much happening !! Please note that Mario Kart: Double Dash!! is released tomorrow in Japan !!
The planning has been updated again. Sonic Heroes is delayed until the end of December (previously scheduled for mid-December) and Naruto 2 got a release date.
(oh, what a big lie, how do I dare to still call it "weekly") Anyway, hmm hmm, you're not dreaming and I didn't mistyped, it's the review of the first Lost Kingdoms that we propose you today. Couldn't be later than that I guess. It is an enjoyable game, I know some sites and magazines really disliked it, maybe they tested it too fast or didn't bother to look beyond the lack of style, but we played for long, we liked it and here's the result:
» Review of Lost Kingdoms
Mario, Zelda and Europe.
Nintendo Europe announced a new bundle once again, to celebrate Mario Kart: Double Dash!! release. For 149 euros, on November 14, you can get this "Mario Kart: Double Dash!! - Limited Edition Pak" which contains not only a GameCube and one of the most enjoyable racing games, but also some of the best adventure games ever all packed in The Legend of Zelda: The Collector's Edition. Let us remind you that this disk is filled with Zelda-love: The Legend of Zelda (NES), The Adventure of Link (NES), The Ocarina of Time (N64), Majora's Mask (N64) and a demo of The Wind Waker (GC). Wow. Just wow ! Who could propose resists such a wonderful opportunity ? If you don't have a GameCube yet, it's now or never as the King says !
Pacman VS.
Nintendo's E3 surprise and poorly received Pacman VS is said to be included for free with next Namco's releases Pacman World 2 and R-Racing Evolution. The game is an update version of the classic Pacman game. It hasn't been said if it would also see a normal release, at the moment, it seems quite unlikely though.
Yuji Naka.
The site Total Video Games (don't know if it's reliable) reports that there's a persistent rumor according to which Sonic's creator Yuji Naka and our beloved Shigeru Miyamoto are working together on a new GameCube title.
Nintendo buys 2.6% of Bandai.
...and they become the king of the world ! They become the ones who are going to buy Bandai ! Waaaow ! It's crazy how the press is good at making some crap out of facts. As soon as this news was published, they all started to talk about Nintendo buying Bandai, in spite of denials from both companies and absolutely illogical reasoning. How could Nintendo takes over Bandai which is such a big company ? That would cost lots of money that Nintendo is definitely not eager to spend. Plus, investing this "little" amount of money is probably smarter and safer than investing a larger amount. With this 2.6% they become a major shareholder, in the top 10, and therefore will be able to influence future game production. To get more exclusive games for the GameCube for instance, or maybe to make some exclusive titles for other consoles coming to GameCube (the Sega's Macross, pleaaaaaase !!).
Nintendo's awards.
The CESA gave us a good laugh this year by giving the grand prize to Final Fantasy XI and Taiko no Tatsujin, the game you like to watch and the game you like to listen to, but not rewarding any game you like to play. Very boring as usual, they just rewarded the games which are convenient to reward, games that make magazines cover, that are talked about and that sells well. Fortunately, that includes also The Legend of Zelda: The Wind Waker, Pokemon Ruby and Sapphire and Made in Wario on GBA which all got an award in the excellence category. However, the CESA was keeping an another joke for the end, the games awards future, which was featuring all the most boring and unoriginal games you could dream of: sequels and fashionable craps.
Self-punishment.
In a stupid move, Midway decided to cancel The Suffering for GameCube. While the new Resident Evil games probably sold better than any Midway's game in the last years, they decided their game was not worth Nintendo's console. Well, never mind, save your money for Resident Evil 4, you're quite sure at least not to be disappointed.
Nintendo's fun.
Nintendo US had made us laugh (well, me at least) with their press release for Mario Party 5 and guess what ? They did it again with this press release for Mario Kart Double Dash!! It's much funnier than standard press releases which are quite boring and tasteless, always full of plain self-praising. Here's an extract of "Santa's Secret Leaked: Nintendo is North Pole's Gift Source":
"Santa's elves are toiling around the clock, making daily pick-ups from Nintendo to meet the holiday demand for Nintendo GameCube(TM) and Game Boy(R) Advance SP systems and games. "The best deal of the holiday season is, by far, the Nintendo GameCube," said Santa's lead elf. "Since its price drop to an MSRP of just $99.99, sales have quadrupled week-over-week; it has become this year's ultimate holiday purchase, and is keeping us busy stocking the sleigh."

Santa's bag of goodies will be overflowing this year, considering that by the time he's ready to fly off into the night, Nintendo will have a library of more than 320 games for the Nintendo GameCube and 550 games for the Game Boy Advance.

"In case you hadn't heard, the must-have video game this year is Mario Kart: Double Dash!! for Nintendo GameCube, launching Nov. 17," Rudolph said. "The big man is always pretty generous, but with so much demand for this multiplayer racing game featuring classic Nintendo characters, the game is only going to the really good kids." A limited pre-sell offer that includes a free bonus disc at the time of purchase is available to consumers who reserve a copy of the game at select retailers. The extra disc is loaded with playable game samples and sneak-peek movies of upcoming software. "I just wish the sleigh could go as fast as those go-karts," Rudolph joked. Mario Kart(R): Double Dash!!(TM) will be available at an MSRP of $49.99."
Just need to remind Nintendo that Santa, Rudolph and the elves are in Finland, not in the North Pole.
The Japanese planning has been updated with the list of the few titles coming in january.
Sorry for the lack of updates lately, I'm busy finishing a new site which opens this month. But I don't forget Samurai Nintendo of course, I'll update and add a few interesting things in the coming weeks, as well as change and improve a few "mechanics" of the site for next year, nothing that will make much difference to you, o my dear absent visitor.