The year is ending on a gloomy note for Nintendo: according to some financial reports, the crucial Christmas holidays season has been poor for GameCube sales, especially in USA and Europe. It's too early to say how exact this piece of news is, after all many excellent games were out for the end of the year (Zelda in Japan, Metroid Prime in USA, Starfox Adventures in Europe), still it is said that the investors made Nintendo's share tumbled today and that their stock lost half of its value since the beginning of the year !

Yes, it is very worrying for Nintendo. Especially that it was quite a faultless Christmas: the GameCube is cheap everywhere in the world, many big and good games were available and there has been an active promotion. So it's very hard to believe sales were not so good, especially that Zelda was selling strong in Japan (as well as a "few" millions of Pokemon games on GBA). Same here, in Europe, some shops had sold all their Starfox Adventures (though Super Mario Sunshine is much more fun, sorry for the fans !). Let's remain optimistic until the final results of Christmas sales are known.

And, don't forget, if you didn't get a GameCube for Christmas, it's not to late to get one ! It would be a pity to miss the greatest fun of the video games entertainment.
Today, here's the preview (screenshots + main information) of another exclusive GameCube title. Although this one is not really "exclusive" as it is the port of a famous Dreamcast RPG, Eternal Arcadia, it still has some GameCube only bonuses like some better graphics, a new character and more. Big thanks to Sega for providing some RPG for our favorite system !
» Preview of Eternal Arcadia Legend
At the beginning of this month, we updated with 20 new pictures from Capcom's Killer 7, now it's the turn of the 4 other games announced by Production Studio 4. You'll find 4 pictures of Resident Evil 4, 6 pictures of Dead Phoenix, 7 pictures of Viewtiful Joe and 9 pictures of Product Number 03. Also, it is said that Capcom will give more information about all those very exciting games early next year.
» Preview of Product Number 03
» Preview of Resident Evil 4
» Preview of Viewtiful Joe
(Dead Phoenix game file and link removed, the game is likely to be canceled)
Nintendo announced today that a game from the manga/anime Naruto is developed by Tomy for both GameCube and Game Boy Advance. It seems the game will be exclusive to the Nintendo systems. The manga Naruto is very popular in Japan at the moment. Tomy already developed two games only for GameCube:
Mutsu to Nohohon
and
Zoids VS
(both Japan only).
Here's a screenshot of the new game: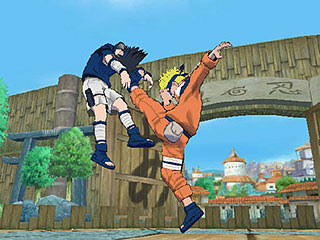 You have some experience in this field ? You are a fluent speaker in both English and French ? You live in Paris or you are ready to move there ? Then read this ad, your dream might come true:

Testeur de jeux sur console - senior bilingue anglais
Notre client, expert dans le monde des jeux videos, recherche un testeur expert de jeux video sur console. Vous decelerez les bugs ou erreurs (ORTH, syntaxe...) dans le jeu. Par une utilisation systematique, vous revelerez les incoherances (entre bande son et situation, synchronisation...), disfonctionnements et anomalies. Reglage, conception, tunning... Vous estimez l'adequation en general du jeu, au niveau de l'interface, fiabilite technique et jouabilite. Vous avez entre 4 et 6 ans d'experience en test de jeux sur console. Vous connaissez toutes les etapes du test et avez excellente experience du test de jeu sur console. Dote d'une immense sensibilite du jeu et d'une excellente culture du sport, vous etes meticuleux, organise, procedural et tres important, vous etes bilingue anglais.

Poste base a Paris
Salaire: 25k - 40k euros
Debut: ASAP
Postuler a: (way too old, e-mail removed)

Senior Tester - Video Game - Paris
For a video game firm: a great opportunity has arisen for a bilingual French/ English senior tester (on console) to go and work in Paris. You will detect all bugs and errors within the video game. With systematic use of all of the functions of the product, you will find out all discrepancies, incompatibilities, abnormalities and misfunctions within the game. Regulation, conception, tuning... You will assess the general practicality of the game, level of interface, technical reliability and playability of the product. You have got at least 4 years experience in video game testing and know all steps of standard tests console plate-form. You have got an excellent knowledge of the video game industry and are also a sports' addict (tennis, running, jump...). You are very thorough, methodical and well organised. You are bilingual French/ English.
Several sites including financial ones, say that Nintendo is going to announce the purchase of Capcom. The persistant rumor of an important announcement from Nintendo has been related to this possibility. According to several sources, the announcement should be made in the coming days, perhaps this week. Wait & see...
- In the past days, Shigeru Miyamoto has told some Japanese magazines that Mario 128, Pikmin 2 and a sequel to Animal Forest are indeed on the way.
- Nintendo and Square will unveil some new videos of Final Fantasy: Crystal Chronicles and talk about the game at the Jump Festival later this week.
- Nec is said to continue to make the chips for Nintendo's next console.
- The Ocarina of Time and The Ocarina of Time: Master Quest (aka Ura Zelda) will be offered with Zelda: The Wind Waker in USA for pre-ordering the game, like it's been done in Japan.
- Red Faction II is coming on GameCube on March 26, 2003.
Wow ! The month starts nicely with a bunch of new pictures for the next Capcom's master-piece. Cel-shaded graphics are going to reach new heights in this very stylish and ultra-violent game: beware, some of the pictures are quite shocking. Do not check this page if you're under 18, you might get really bad dreams then...
» Preview of Killer 7
Only 3 games announced for this February in Japan:
- Generation of Chaos Exceed (Idea Factory) - Feb. 7
- Evolution Snowboarding (Konami) - Feb. 20
- Metroid Prime (Nintendo) - no date set
Nintendo of America told the press that 1 million Game Boy Advance were sold during the Thanksgiving week end. They expect to reach 10 million units sold world-wide within the year.
According to Famitsu, Nintendo will release in Japan early next january a "Nintendo Puzzle Collection", with Panel de Pon, Dr. Mario and Yoshi's Cookie. All of them will feature a 4 players mode and it will be possible to carry and play the original games on Game Boy Advance ! However, the game does not appear on the official planning so far neither in january nor february.
According to IGN who asked some retailers, the free mini-DVD with The Legend of Zelda: Ocarina of Time and Ura Zelda offered in Japan for preordering The Legend of Zelda: Kaze no Takuto, should be available in US too. As for Europe, Stephane Bole from Nintendo France said that the success of this DVD in Japan might as well bring the game here too.